Source Link:
http://www.thisamericanlife.org/radio-archives/episode/454/mr-daisey-and-the-apple-factory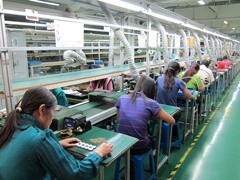 Mike Daisey was a self-described "worshipper in the cult of Mac." Then he saw some photos from a new iPhone, taken by workers at the factory where it was made. Mike wondered: Who makes all my crap? He traveled to China to find out.
==============
If you have time, I highly recommend this podcast:
http://podcast.thisamericanlife.org/podcast/454.mp3
Podcast and related links gave me an answer that I was not that comfortable with...
We in the US went through our 100 years of Industrialization with the good and the bad...
Workers in China are going through their Industrialization period with good and the bad we should be aware of...
Opinion : US Multinational Companies should conduct business with Integrity
One person, Mike Daisey, might help that greatly!
Shows the power of "individual actions" ... they can make a difference ... and help change the world to be better...
Regards and respect to all,
Monte Hines
Related Links:
http://gizmodo.com/5678732/exclusive-look-where-the-workers-who-made-your-iphone-sleep-at-night
http://gizmodo.com/5679706/exclusive-look-living-at-foxconn
http://performingartsconvention.org/artists/id=572
http://boingboing.net/2012/01/23/mr-daisey-and-the-apple-facto.html